Abercrombie & Kent

Some people collect travel destinations the way others collect Biedermeier furniture or presidents' autographs.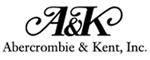 What's come onto the market this year? Bhutan? Libya? Mongolia? Why not fly over this summer and add it to the collection?
Others travel for an entirely different set of reasons. Reasons which have less to do with collecting countries (who needs another trophy on the shelf?) than with gathering experience.
If you're a member of the latter group, you know that, at its best, a journey down the Sepik River or up Mount Kilimanjaro, across Provence or along the Antarctic Peninsula, can change you deeply in ways both tangible and intangible, acknowledged and unavowed.
However, when changing the way you look at the world is one of your travel objectives - when authentic experience matters more to you than casual acquisition - the travel company you choose has a tall order to fill.
That's where Abercrombie & Kent comes in.
Since 1962, A&K has been doing one thing exceptionally well. They specialize in matching unique people with unique places, and in providing the expertise and (unobtrusive) support that allows them to experience those places fully, at first hand and in their own personal style.
It's simply the best way to travel. And it requires a unique combination of local knowledge and global organization that only Abercrombie & Kent is equipped to provide.
The travel industry is filled with companies who own only their brochures and a handful of contracts with independent suppliers overseas. In contrast, A&K has its own network of offices (50 and counting) across the globe, staffed full time by A&K professionals. They own and operate luxury camps and lodges in remote destinations to ensure that our clients have access to the best.
And A&K draw on the knowledge, humor and creativity of an incredible team of staff members and local "friends of A&K," to bring you face-to-face with an Antarctic iceberg the size of Chartres Cathedral, or make it possible for you to walk around Chartres itself with an expert on its stained glass. To set you down for a private picnic a deux in the middle of the African savannah or give you and the children your own tropical island for a day.
Experience does count. Abercrombie & Kent will make yours unforgettable.