Brendan Vacations Worldwide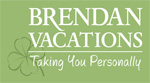 When planning a vacation, there are certain things you will want to know about the company you choose to travel with. Are they experienced? Are they financially secure? Do they provide good value for your money? Brendan Vacations has been in business for nearly 40 years, all that time creating memorable vacations for hundreds of thousands of satisfied customers.
As a founding member of the United States Tour Operators Association (USTOA), Brendan Vacations has furnished $1 Million to USTOA to insure and protect your money.
Brendan Vacations believes that motorcoach travel beats any other way of touring. You sit high above the road and traffic, enjoying the scenery, resting while you're moving, arriving relaxed and ready for more.
Touring means seeing the sights. With Brendan, important inside visits are included in the price of your tour.
Brendan has made it a priority to choose only the most exceptional people to escort our tours and represent us throughout the world. In essence, its tour directors, drivers and guides are Brendan.
At the end of the day you'll want to relax at a comfortable, clean, attractive hotel. You want to feel welcome and well looked after. These are the types of hotels you'll find when booking a Brendan vacation.
A recent survey of American travel agents found Brendan to provide the "Best overall value" for the price paid for touring.
Brendan is a family owned and operated company whose philosophy is very simple... provide a unique vacation experience that will keep you coming back to us year after year.
They make certain promises to you and they live up to them. No surprises and no hidden extras. But you be the judge!