City Escape Holidays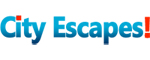 At City Escape Holidays, we have responded to your requests by consolidating our many travel brochures into this catalog format. We are hopeful that in these pages, you will find a perfect long weekend escape, one week vacation trip, Holiday Season getaway or that special event you have always dreamed of attending.
Most importantly, thanks for booking with your professional travel agent. As you may know, our brochures and products are only available through the 25,000 travel agencies around the USA and Canada. We have partnered with them to provide you with a wide variety of land-only travel packages from which to select your next escape.
Providing Consumer Confidence
City Escape Holidays is a proud member of the National Tour Association and the highly-regarded American Society of Travel Agents Tour Operator Program. Your travel agent will explain the importance of traveling with an NTA and ASTATOP tour operator. In addition we carry a two million dollar Errors and Omissions policy.
Close Coordination with Your Travel Agent
It has never been more important for you to consult a travel agent when planning your leisure travel. They can help you simplify, and make sense of, the many product choices in the marketplace. Your travel agent is your best source for hassle-free planning for any of our travel packages. They are professionally trained to give you the best possible attention to detail and thorough customer service. We will work with them to ensure that your weekend escape, special event trip or complete vacation will be one to remember.