Tahiti Legends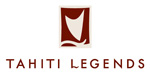 Whether you are planning an unforgettable honeymoon, a special vacation, or a quick getaway - begin your vacation with Tahiti Legends. Vacation packages with a unique flavor. Personalized service. No set departure dates. You choose when you want your adventure to begin. We do the rest.
Tahiti is a world apart from all other tropical island vacations. Moorea charms with her emerald mountains and sandy shores… Bora Bora captivates with her gentle lagoons of an unimaginable palette of blues and turquoises... Huahine, Raiatea, and Taha'a offer lush vanilla plantations and ancient maraes... Rangiroa and the Tuamotus beckon divers with their untouched coral reefs and schools of marine life... the remote Marquesas enchant adventurers with its rugged cliffs and soaring mountain peaks.
Tahiti is a land of timeless beauty and ancient culture. In this site you will find exquisite Tahiti vacation packages, descriptions of Tahiti hotels and their extraordinary overwater bungalows, romantic Tahiti honeymoons and great Tahiti specials. Learn more about the islands of Tahiti and let us take you on the South Seas experience of a lifetime.
Intoxicating scents. Azure lagoons. Palm-shaded beaches. Polynesian beauties. Tahiti and Her Islands are a place beyond the ordinary.